Album Review

"Joining latter-day gems such as Nathaniel Mayer's final sets is
Ms. Neals'...
well-proportioned mix of toughness and vulnerability, the robust-voiced Neals can

match power and attitude with most any soul diva around.

"

Thank You ROOTS MUSIC REPORT you review really listened great ears! 2-1/2 years after the indie release #messinwithafool continues as a classic #Detroit #BluesRock album!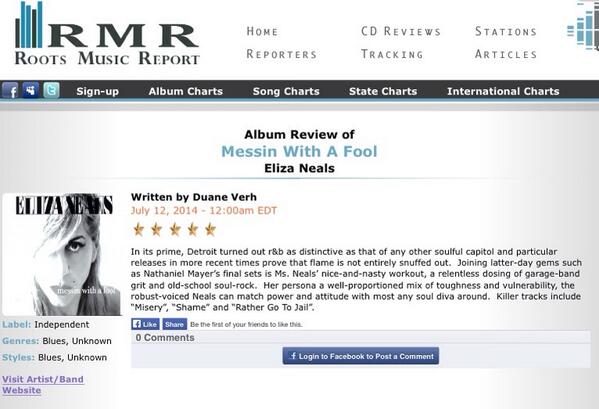 ____________________
AUGUST 2nd 2014! SATURDAY NIGHT!
The East Ports Blues Festival
North Ridge Road

Port Sanilac

,
"Eliza Neals and the Narcotics!"
"Outstanding Blues Instrumentalist"
Mr. Howard Glazer will Join Us for the
BluesRock you Want on a Saturday Night!
Need a Blues Fix?

"Blues Girls of Summer"
AUG 3rd!
Tangent Gallery
Come downtown and see all the Award Winning Girls give us the Hot Summer Chills! Catch

Gary Indiana Czabot

and I plus the rest of the Narcotics at 5pm!
Thanks to Detroit Blues Society and Nikki James!
Gabe Gonzales on Drums and Johnny Abraham on Bass!